05-08-2020 | Issue 11/2020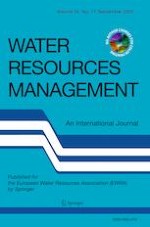 Using High-resolution Remote Sensing Images to Detect Freshwater Ecosystem Changes – a New Perspective of Different Ecosystem Types and Shapes
Journal:
Authors:

Chen Lin, Hao Cheng, Chi Zhang, Yang Zhang, Liangjie Wang
Important notes
Publisher's Note
Springer Nature remains neutral with regard to jurisdictional claims in published maps and institutional affiliations.
Abstract
Area statistics of large lakes is the most concerned primary indicator in existing studies of freshwater ecosystem (FE) dynamics in watershed-dominated regions (WDRs). However, large lakes alone cannot represent the complete status of WDRs, and the dynamic changes of some smaller water types, such as rivers, pits, and streams, need to be given more attention. In order to capture more refined spatiotemporal features of multiple FE types and provide important basis of FE management, multi-temporal high spatial resolution remote sensing images (< 5 m) were used to capture more detailed FE information and change tendencies in Jianghuai Ecological and Economic Zone (JHEEZ). Despite that the general change of total FE area was less than 5% from 2015 to 2018, even though the change in lake areas was only 0.12%, some different and interesting findings can be observed from different FE types and their shapes. First, different lakes exhibited different change features. Hongze Lake, which is the largest lake in JHEEZ, remained stable in the last three years, while some relatively small lakes, such as Gaoyou Lake and Baima Lake, demonstrated much more dynamic and complicated transformations, especially represented in the locally-variations of lake shorelines. In particular, both notable transfer in (polder areas changed into lakes) and transfer out (areas occupied by construction land and forestland) features could be observed in Baima Lake, which was driven by integrated roles of the 'retreating to lakes' project and tourism development. Second, small ponds represent the most significant increasing tendency. More than 500 km2 of new ponds were observed, in which more than 80% were transferred from arable land. These new pond regions were mainly located in the lake storage area and in the suburbs of major cities. All of these findings indicate that, the sub-types of FE that have small areas and scattered distribution features are more likely to undergo more dynamic changes than those of large lakes. Therefore, in addition to the dynamics changes of large lakes and their boundaries, this study also contributes to a deeper understanding of multiple small FE types. Furthermore, it is beneficial to more accurate freshwater resources management.