2015 | OriginalPaper | Chapter
Using Mobile Devices in Supervision of Graduate Research in Distance Education: A Personal Journey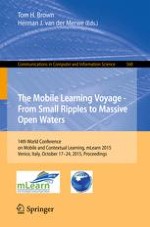 Author: Mokholelana Ramukumba
Publisher: Springer International Publishing
Abstract
Supervision of research, especially during the proposal writing stage requires access to adequate intellectual resources, and can be a daunting task for master's students, more so, when they are supervised in an open distance learning context (ODL). The emergence of innovative technologies and smartphone applications has increased the potential of m-learning and therefore, m-supervision.
Purpose
: The purpose of this paper is to describe my personal journey in supervising graduate students using personal mobile devices in (ODL) context.
Method:
Autoethnography following Driscoll (
2000
) model of structured reflection guided my reflective narrative. Reflexivity provided the opportunity to challenge myself to explicitly examine my supervisory practices, assumptions, personal epistemologies, and emotions involved in mobile supervision. Strategies used to bridge the distance gap included instant communication (WhatsApp), Wikispaces as a repository for learning triggers, Dropbox for immediate and elaborate feedback, and Skype for individual, collaboration and incorporation of alternative perspectives. These strategies were embedded within various tenets of learning theories and supervision pedagogy.
The reflective data illuminated the potential of using a safe and informal communication space to enhance students' outcomes. The informal social environment offered means of blending affective domain, rationality and autonomy in supervision. Supervisory pedagogy for mobile devices is worthy of being explored and exploited.