01-04-2021 | Issue 4/2021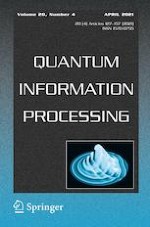 Using small-scale quantum devices to solve algebraic equations
Journal:
Authors:

Hongshu Li, Zhi Ma, Hong Wang, Qianheng Duan, Yangyang Fei, Xiangdong Meng
Important notes
This work was supported in part by the National Natural Science Foundation of China (Grants Nos. 61972413, 61701539, 61901525), and in part by the National Cryptography Development Fund (mmjj20180107, mmjj20180212).
Publisher's Note
Springer Nature remains neutral with regard to jurisdictional claims in published maps and institutional affiliations.
Abstract
Solving algebraic equations over GF(2) is a problem which has a wide range of applications, including NP-Hard problems and problems related to cryptography. The existing mature algorithms are difficult to solve large-scale problems. Inspired by Schöning's algorithm and its quantum version, we apply related methods to solve algebraic equations over GF (2). The new algorithm we proposed has a significant improvement of solving efficiency in large-scale and sparse algebraic equations. As a hybrid algorithm, the new algorithm can not only run on a classic computer alone, but also use small-scale quantum devices to assist acceleration. And the new algorithm can be seen as an example of solving a large-scale problem on a small-scale quantum device.