01-07-2014 | Original Article | Issue 1/2014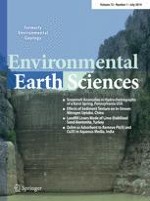 Utilization of ochre as an adsorbent to remove Pb(II) and Cu(II) from contaminated aqueous media
Journal:
Authors:

Himadri Bhusan Sahoo, Subhasish Tripathy, Sk. Md. Equeenuddin, Prafulla Kumar Sahoo
Abstract
The ability of ochre to remove Pb(II) and Cu(II) from aqueous media has been studied by batch sorption studies varying the contact time, initial metal concentration, initial solution pH and temperature to understand the adsorption behaviour of these metals through adsorption kinetics and isotherms. The pH of the solution and the temperature controlled the adsorption of metal ions by ochre and rapid uptake occurred in the first 30 min of reaction. The kinetics of adsorption followed a pseudo-second-order rate equation (
R
2
> 0.99) and the isotherms are well described by the Freundlich model. Adsorption of metals onto ochre is endothermic in nature. Between the two metals, Pb(II) showed more preference towards the exchangeable sites on ochre than Cu(II). This study indicates that ochre is a very effective adsorbent in removing Pb(II) and Cu(II) from the aqueous environment with an adsorptive capacity of 0.996 and 0.628 mg g
−1
and removal efficiency of 99.68 and 62.80 %, respectively.