01-10-2019 | Issue 6/2019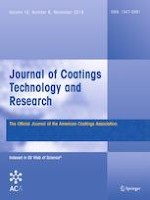 UV-stable electrocoats for corrosion protection and structural bonding
Authors:

Christina Bauder, Ulrich Christ, Nadine Göttl, Rolf Nothhelfer-Richter
Important notes
This paper was presented at the 2018 European Technical Coatings Congress on June 26–29, 2018, in Amsterdam, The Netherlands.
Publisher's Note
Springer Nature remains neutral with regard to jurisdictional claims in published maps and institutional affiliations.
Abstract
The coating process in the industry segment of mobile machinery for ACE, e.g., agricultural machines, is usually done by spray application after welding a variety of parts on the framework. The current painting process consists of an anticorrosive primer and a weather-resistant topcoat. The presented study is part of a research project investigating a new concept combining a new sequence in construction with the big advantage of applying a single-coat system. This smart production enables the construction of machines in modules, keeps the volume of an electrocoating dipping bath at a minimum level, and replaces the custom painting procedure with much overspray by an economic and ecological coating technology. To realize this new technology, the coating system has to perform as an anticorrosive system, providing a sufficient outdoor weather resistance, and must have sufficient adhesion strength for structural bonding of additional parts. First results show that the investigated electrocoats show good anticorrosive properties. The UV- and the weather resistance meet the required values (> 50% gloss retention after 1000 h artificial weathering of CAM 180), dependent on the type of electrocoat. First investigations on structural bonding show that a high bonding strength can be achieved.