10-07-2018 | Original | Issue 5/2018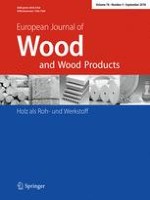 UV–VIS spectral and GC–MS characterization of
Handroanthus serratifolius

(

Vahl

.)

Grose

(

a.k.a. Tabebuia serratifolia

(

Vahl

.)

Nichols

/

Lapacho

) heartwood main extractives: a comparison of protocols aimed at a practical evaluation of Lapachol and Dehydro-

α

-Lapachone content
Authors:

Enrico Segoloni, Francesco Di Maria
Important notes
Publisher's Note
Springer Nature remains neutral with regard to jurisdictional claims in published maps and institutional affiliations.
Abstract
In this work, colorimetric and GC–MS analysis methods of
Handroanthus serratifolius
(
Vahl
.) Grose (a.k.a.
Tabebuia serratifolia
(
Vahl
.)
Nichols
) heartwood extracts were applied and compared in order to implement reliable, cheap and affordable industrial routine procedures aimed at the practical quantitative evaluation of the main compounds which characterize the extractives from this wood.
Lapachol
(2-hydroxy-3-(3-methyl-2-butenyl)-1,4-Naphtalenedione), the characteristic extractive of the
Handroanthus
/
Tabebuia
genus which along with
Dehydro-α-Lapachone
(2,2-dimethyl-2H-Naphtho[2,3-b]pyran-5,10-dione) are the two predominant compounds in the
Handroanthus serratifolius
heartwood, were quantitatively evaluated. For the first one, comparison between colorimetric and GC–MS analyses (based on internal and external standard) allowed the implementation of a quantitative evaluation protocol of practical relevance. Moreover, in the light of its importance in relation to the colorimetric and mechanical features of Lapacho wood (i.e. influence on gluing), a reliable evaluation of the
Lapachol
dissociation constant in aqueous environment was achieved, and the data obtained also allowed for ascertaining the two main precipitation mechanisms.
Dehydro-α-Lapachone
content was evaluated by GC–MS analyses based on the internal and external standard methods.