Published in: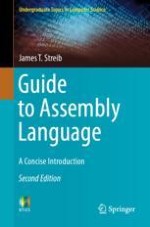 2020 | OriginalPaper | Chapter
1. Variables, Registers, and Data Movement
Abstract
High-level languages, such as C, C++, and Java, have similarities with natural languages which help make programs easier to read and write whereas low-level languages are closer to the machine and offer a look at the machine organization and architecture. There is a one-to-many relationship between high-level languages and low-level languages, where language translators such as compilers and interpreters convert each high-level instruction into many low-level instructions. The native language of a particular machine is a low-level language known as
machine language
and is coded in ones and zeros. Further, the machine language of an Intel microprocessor is different than that of other microprocessors or mainframes, thus machine language is not transferable from one type of machine to another.