2021 | OriginalPaper | Chapter Open Access
Velomobiles and Urban Mobility: Opportunities and Challenges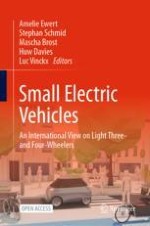 Authors: Geoffrey Rose, Alex Liang
Publisher: Springer International Publishing
1

Introduction

While a decade and a half have passed since those words were written, they still hold true today. Yet velomobiles offer obvious opportunities from the perspective of enhancing the sustainability of our urban transport systems. They have low energy requirements, have passenger-carrying capacities that meet the needs of most trips in urban areas, have a smaller spatial footprint than a conventional motor vehicle and provide exercise and associated health benefits for the user.

The aim of this chapter is to explore the challenges and opportunities of increased velomobile usage in the context of urban travel. The approach is broken into three distinct components. First, an international scan of existing velomobiles is used to identify typical characteristics of these vehicles and place them into perspective against relevant travel options. Second, velomobiles are assessed in the context of typical vehicle regulations and facility design guidelines and finally the opportunities and challenges associated with greater adoption of velomobiles in the context of urban travel are examined. A short conclusions section wraps up the chapter.
2

Velomobile Characteristics

Velomobiles have varying attributes and their characteristics are ultimately dependent on the design and function of the vehicle. Velomobiles may be designed as an alternative mode of transport, for the purpose of attaining maximum speeds or as a recreational vehicle. An appropriate starting point is to appreciate the typical characteristics of velomobiles, including their physical geometry or spatial footprint as well as the speed profiles and operating characteristics of these vehicles. Table

1

summarises indicative values for a range of parameters. The focus here is on the general trend across different types of vehicles rather than focusing on the measurement accuracy of one particular parameter for a specific vehicle.

Table 1

Typical characteristics of various mobility devices (

HP

 = Human-powered,

EA

 = Electric assist.

Source

Manufacturer's web sites)
Road bike

E-bike

Recumbent trike**

HP velomobile

EA velomobile

Width (m)

0.61

0.61

0.83–0.88

0.56–1.02

0.76–1.5

Length (m)

1.5–1.8

1.5–1.8

1.71–2.08

1.98–2.85

2.17–3

Turn radius

Low

Low

Med

1.45–3 m

Med-high

1.5–6.5 m

Med-high

1.5–6.5 m

Weight (kg)

6.8–17

23

14.5–21.8

15–80

32.5–120

Eng. power*

N/A

<250 W

N/A

N/A

<250 W
In general, velomobiles have a greater spatial footprint compared to road bikes, e-bikes and recumbent bicycles as given in Table
1
. The dimensions of both human-powered and electric-assisted velomobiles vary greatly as velomobiles are designed for different functions and design requirements [
10
]. Smaller and lighter velomobiles are generally used for racing purposes whilst mid-size and large-size velomobiles are more suited as a mode of transport [
11
]. Some designs incorporate two seats or additional room for storage space and therefore have larger spatial footprints.
There are velomobiles that can travel at very high speeds. The world record of a human-powered velomobile is 144.17 km/h [
12
]. The high speeds are due to a low centre of gravity and an aerodynamic shell of the vehicle [
13
]. Table
2
shows a comparison of speeds between bicycles and velomobiles. An average healthy adult can deliver 100 W of power on a bicycle and maintain that for approximately one hour. By contrast, 250 W is the power output of a well-trained cyclist. It is evident that velomobiles can travel at higher speeds with the same amount of energy input compared to bicycles, with the exception in uphill situations. Electric-assisted velomobiles are especially useful on steep hills.
Table 2
Speed comparison between typical bicycles and velomobiles (
Std
 = standard,
BP
 = best practice)
| | Poorly maintained bike* | Good regular bike** | Std velomobile*** | Racing bike**** | BP velomobile***** |
| --- | --- | --- | --- | --- | --- |
| Flat road, 250 W | 23.5 km/h | 29 km/h | 41 km/h | 37.5 km/h | 50 km/h |
| Flat road, 100 W | 15 km/h | 20.5 km/h | 28 km/h | 27 km/h | 34 km/h |
| 5% uphill, 150 W | 6.5 km/h | 9.7 km/h | 8.6 km/h | 11.6 km/h | 9 km/h |
| Power require to ride 30 km/h | 444 W | 271 W | 115 W | 137 W | 79 W |
Kinetic energy management is recognised as a critical factor in the context of road safety [
14
] since it is associated with the potential for injury in the event of a crash. Using the data from Tables
1
and
2
, the kinetic energy generated for velomobiles and bicycles has been estimated and is given in Table
3
. Kinetic energy is calculated as mass times velocity (speed) squared. Regular bicycles and racing bikes generate similar amounts of kinetic energy as the former are heavier and slower and the latter are faster but lighter. Standard velomobiles produce considerably higher amounts of kinetic energy compared to bicycles with the same amount of energy input due to higher speeds and increased weight. The difference in kinetic energy is even greater for electric-assisted velomobiles due to the same reasons.
Table 3
Kinetic energy generated for bikes and velomobiles
| | Good regular bike* | Racing bike** | Standard velomobile*** | Electric-assisted velomobile**** |
| --- | --- | --- | --- | --- |
| Flat road, 250 W | 5004 J | 4781 J | 39,924 J | 95,313 J |
| Flat road, 100 W | 2500 J | 2479 J | 18,620 J | 44,073 J |
3

Opportunities and Challenges

Since the existing infrastructure is geared towards bicycles, bicycle paths and shared-use paths which may be under designed for the speed and braking capabilities of velomobiles. Bicycles are able to make sharper turns as they have a smaller turn radius and travel at lower speeds. Velomobiles may require larger curve radii, and additional sight distance may need to be provided along shared-use paths to create a safe environment for all users. Of course, this is dependent on where velomobiles are ridden and travel surveys do not currently provide insight in that context because of the low incidence of velomobile use in the population. Their classification as bicycles means they can legally be ridden on bicycle facilities. However, incompatibilities can arise between their performance characteristics (e.g., maximum speeds) and the design characteristics of those facilities, for example, in relation to the horizontal curve radii which are designed on the expectation of lower maximum speeds.
4

Conclusion

Velomobiles have the potential to provide a mode choice alternative in urban environments since they provide some of the benefits of both bicycles and motor vehicles. Human-powered and electric-assisted velomobiles have varying physical and operational characteristics. In comparison with bicycles, they have a larger spatial footprint, can travel faster with less energy and are heavier. They have the advantage of still being classified as bicycles (depending on their characteristics). Therefore, the same regulations and laws that apply to regular bicycles currently apply to velomobiles. There are many implications for velomobiles regarding existing infrastructure and facility design guidelines as these are designed to cater for the performance envelope of regular bicycles. High speeds and a larger spatial footprint, combined with the lack of appropriate infrastructure, raise safety issues both on road and on shared-use paths. The challenge as new velomobile entrepreneurs emerge is determining whether the community and the transport profession will continue to regard them in the same category as bicycles particularly when the spatial footprint makes them incompatible with many existing bicycle facilities. Current regulatory frameworks which are based on vehicle descriptions rather than performance-based standard present a risk for disruptive technologies like velomobiles. The short-term risk for even current velomobile developers is that regulatory responses to other innovative modes may have unintended consequences for the use of velomobiles by placing new restrictions on where and when current, but less common vehicles, are permitted to operate. The emergence of velomobiles as the basis for systems of shared mobility may be a valuable stimulus for velomobile adoption. Shared-use systems could play a part in helping velomobile technology to cross the chasm to wider adoption and emerge as a more mainstream urban travel option.
Open Access
This chapter is licensed under the terms of the Creative Commons Attribution 4.0 International License (
http://​creativecommons.​org/​licenses/​by/​4.​0/​
), which permits use, sharing, adaptation, distribution and reproduction in any medium or format, as long as you give appropriate credit to the original author(s) and the source, provide a link to the Creative Commons license and indicate if changes were made.
The images or other third party material in this chapter are included in the chapter's Creative Commons license, unless indicated otherwise in a credit line to the material. If material is not included in the chapter's Creative Commons license and your intended use is not permitted by statutory regulation or exceeds the permitted use, you will need to obtain permission directly from the copyright holder.