01-12-2020 | Forschung | Issue 12/2020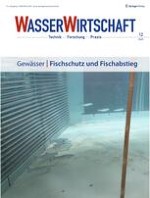 Verbesserung des Prozessverständnisses der Kraftwerkspassage von Aalen durch neuartige Ansätze
Journal:
Authors:

Dr.-Ing. Elena-Maria Klopries, Univ.-Prof. Dr.-Ing. Holger Schüttrumpf
The passage of a hydropower plant can cause severe damage to fish migrating downstream. Screening and bypass systems, fish adapted turbine management and fish adapted turbines can help to reduce this damage. On the basis of empirical data, an equation for the screening effect of bar racks for European eels (
Anguilla anguilla
) was developed. This equation was compared with the results of our own behavioural laboratory studies, which allowed a first validation of the equation within its application limits. In addition, an approach to determine the mortality risk of silver eels at different operating points of a Kaplan turbine was developed. This approach is based on the combination of a computational fluid dynamics model of the turbine flow, the modelling of the fish passage through the turbine and the mortality estimation using dose-response relationships. The comparison with field studies at a similar hydropower plant shows good agreement between the calculated mortality risk and the measured mortality. Both presented approaches offer the possibility to better understand the effects of hydropower plants on migrating fish and the demands of migrating fish on hydropower plants and to take these into account in the design and planning of hydraulic structures and hydraulic engineering measures.