25-04-2020 | Issue 5/2020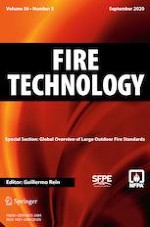 Video Flame and Smoke Based Fire Detection Algorithms: A Literature Review
Journal:
Authors:

Anshul Gaur, Abhishek Singh, Anuj Kumar, Ashok Kumar, Kamal Kapoor
Important notes
Publisher's Note
Springer Nature remains neutral with regard to jurisdictional claims in published maps and institutional affiliations.
Abstract
This review is focused on video flame and smoke based fire detection algorithms for both indoor and outdoor environments. It analyzes and discusses them in a taxonomical manner for the last two decades. These are mainly based on handcraft features with or without classifiers and deep learning approaches. The separate treatment is provided for detecting flames and smoke. Their static and dynamic characteristics are elaborated for the handcraft feature approach. The blending of the obtained features from these characteristics is the focus of most of the research and these concepts are analyzed critically. A fusion of both visible and thermal images leading to multi-fusion and multimodal approaches have conversed. It is a step towards obtaining accurate detection results and how the handcraft feature approach tackles the problems of flame and smoke detection, as well as their weaknesses are discussed which are still not solved. Some of these weaknesses can be tackled by developing a technology based on artificial intelligence named deep-learning. Its taxonomical literature study with a focus on the flame and smoke detection is presented. The strengths and weaknesses of this approach are discussed with possible solutions. The latest trend in literature which focuses on the hybrid approach utilizing both handcraft feature, and deep learning approaches is discussed. This approach aims to minimize the weaknesses still present in the current systems.