Published in: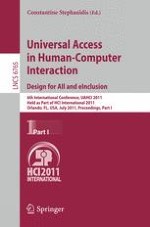 2011 | OriginalPaper | Chapter
Visual Mediation Mechanisms for Collaborative Design and Development
Collaborative design involving end users has emerged as a response to the needs felt by various organizations of adapting software to specific environments and users. During time, users and environments evolve; this is another reason why software has to be modified. Different stakeholders, including consultants, designers internal to the organization and, recently, end users, have to collaborate among themselves, and possibly with the software providers, to shape software. Such stakeholders face fundamental challenges in learning how to communicate and in building a shared understanding. Researchers are now addressing such challenges. This paper contributes to this innovative research by formally defining visual mediation mechanisms for collaborative design. A case study illustrating their application is discussed.