27-06-2020 | Original Research | Issue 13/2020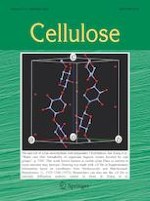 Water cast film formability of sugarcane bagasse xylans favored by side groups
Journal:
Authors:

Zhouyang Xiang, Xuchen Jin, Caoxing Huang, Lian Li, Wanhua Wu, Haisong Qi, Yoshiharu Nishiyama
Important notes
Electronic supplementary material
Publisher's Note
Springer Nature remains neutral with regard to jurisdictional claims in published maps and institutional affiliations.
Abstract
Hemicellulose, one of the most abundant biopolymers next to cellulose, has been considered as a potential substitute to synthetic polymers. Film casting from water is the most basic route for material applications of xylan. However, depending on plant sources and separation methods, xylans do not always form films and the related mechanism is unclear, which significantly hinders their material applications. We extensively characterized various fractions of bagasse xylan to understand the molecular features promoting the film formation. The side groups of xylans or impurities contributed to the prevention of excessive aggregation or crystallization of xylan molecules, leading to the film-forming capacity. However, once the film is formed, the side groups do not seem to be necessarily contributing to the mechanical resistance.