01-08-2020 | Original Article | Issue 15/2020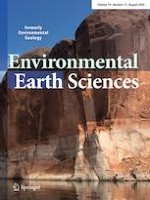 Water leakage susceptible areas in loess multi-arch tunnel operation under the lateral recharge conditions
Journal:
Authors:

Zhengjun Mao, Xiaokang Wang, Ning An, Xiaojun Li, Rongyu Wei, Yaqiong Wang, Hao Wu
Important notes
Hao Wu is the first corresponding author.
Publisher's Note
Springer Nature remains neutral with regard to jurisdictional claims in published maps and institutional affiliations.
Abstract
In this study, the water leakage susceptible areas in a loess multi-arch tunnel were examined, providing a basis for the prevention and control of water leakage disease during the operation periods of multi-arch tunnels in loess areas. Through the field investigation of the leakage in loess multi-arch tunnel, the leakage mainly focuses on three joints: construction joints, expansion joints, and settlement joints. The spatial distribution of the leaking part in the tunnel is summarized and abstractly into three types: annular cracks, longitudinal cracks and full longitudinal cracks + circumferential cracks. By setting up different number of annular and longitudinal cracks, a total of 20 combinations were designed. This paper sets three kinds of working conditions, including 40 and 60 m of reinforcement water head and 60 m of no reinforcement water head, considering groundwater lateral recharge conditions. Using the midas/GTS geo-technical analysis system software, 3D numerical simulations were conducted to determine the distributions of the total water head and water pressure in cracks for all the combinations of water leakage positions under different working conditions and to analyze the variations in the seepage field of the surrounding rock. Based on the areas where the total water head and water pressure in the cracks sharply changed, the water leakage susceptible areas were determined. The rationality and reliability of the method were verified by a comparison with the results of a field investigation.