01-10-2020 | Cover Story | Issue 10/2020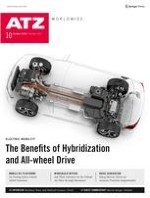 "We believe in democratizing electric cars"
Journal:
Author:

Frank Jung
Ford has announced that by the end of 2021 it will have 18 electrified models on sale on the European market. Its line-up includes mild hybrids, plug-in hybrids and full hybrids, together with fully electric models. In the interview, Matthias Tonn and Michael Geaney, two engineers from Ford, give more details about the company's "Ford goes electric" strategy.
×
×
...