01-11-2019 | Cover Story | Issue 11/2019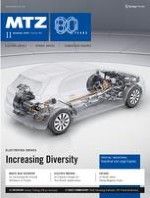 "We cover the entire portfolio of future mobility options"
Journal:
Author:

Frank Jung
The Chinese carmaker Chery intends to move into the European market and in October 2018 it opened a new design, development, marketing, and sales center in Raunheim near Frankfurt/Main (Germany). Jochen Tüting, Managing Director of Chery Europe, also spoke to MTZ about the possible drive portfolio in Europe.
×
...