01-09-2017 | Cover Story | Issue 9/2017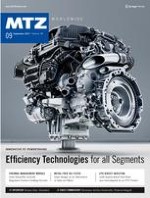 "We want to take emissions to the limit of detection"
Journal:
Author:

Angelina Hofacker
The Mercedes-Benz S-Class is to be given a new six-cylinder diesel engine that meets Euro 6 RDE Level 1 emissions targets. In addition, new four- and six-cylinder gasoline engines are being rolled out for the brand portfolio that are equipped with 48-V electrification and an ISG or BSG. In this interview with MTZ, Dr. Torsten Eder, at the time Director of the Competence Center Engines, explains the company's strategy and how Mercedes-Benz is managing to respond to the statutory environment and market demands in a flexible manner.
×
...