01-09-2019 | Interview | Issue 3/2019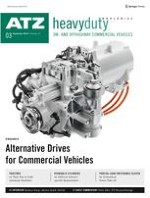 "We will offer the complete range of technologies"
Journal:
Authors:

Alexander Heintzel, Johannes Liebl
At the 40
th
Engine Symposium in Vienna (Austria), MAN introduced their new 9-l engine series D15 and E18 to the expert audience. ATZheavyduty discussed the D15 and E18 features as well as powertrain technologies of the future with Markus Raup, the Deputy Head of Engine Development at MAN in Steyr (Austria), and Moritz Späth, Senior Design Engineer in the 9-l engine series design department at MAN in Nuremberg (Germany).
×
×
...