Published in: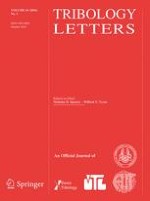 01-10-2016 | Original Paper
Wear Behavior and Hardening Mechanism of Novel Lightweight Fe–25.1Mn–6.6Al–1.3C Steel Under Impact Abrasion Conditions
Published in: Tribology Letters | Issue 1/2016
Log in
Abstract
The aim of the present work was to reveal the wear behavior and hardening mechanism of novel lightweight Fe–25.1Mn–6.6Al–1.3C cast steel under abrasive impact wear with different heat treatments. The impact wear tests were carried out by using MLD-10 abrasive wear testing tester under the same impact wear condition. For this purpose, the cast steel upon quenching (Q) and quenching (1050 °C) + aging (Q–A) at 550 °C for a different time from 1 to 4 h was chosen to conduct impact abrasive wear tests. It was shown that the best wear resistance of Fe–25.1Mn–6.6Al–1.3C steel under Q–A (2 h) process was about 2.29 times higher than that of under Q process, which results from the fact that the fine nano-size second-phase (Fe, Mn)
3
A1C
κ
-carbides tend to precipitate coherently within the austenite matrix under the additional aging treatment. In consequence, the fine nano-size
κ
-carbides improved both the initial hardness and wear resistance of the substrate. However, when the specimen was treated at 550 °C for longer aging time (4 h), coarse
κ
-carbides would precipitate around the grain boundaries, which made the material extremely brittle and decreased the wear resistance. The surface hardening showed Lomer–Cottrell locks, high density of dislocation tangles and dislocation walls; neither martensite nor mechanical twins were observed under the low impact energy condition for both heat treatment processes.