25-08-2018 | Issue 1/2019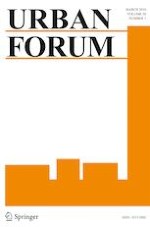 What Are the Land Delivery and Land Holding Mechanisms for African Informal Light Manufacturing Clusters?
Journal:
Author:

John C. Harris
Abstract
This paper theorizes that the impacts of land delivery and land holding mechanisms on the evolution and performance of informal light manufacturing clusters have been underexamined and need renewed evaluation for their impact on cluster performance and evolution of agglomeration effects. It examines 25 cases of African informal production clusters; 19 from existing studies, six previously unpublished to develop eight land delivery mechanism types and eight ways informal clusters hold urban land. The purpose is to provide a nuanced understanding of the mechanisms of land access for informal clusters so that future scholarship can investigate the impact of these mechanisms on informal production cluster evolution. The paper concludes with a resulting set of future research questions and implications for methods.