2017 | OriginalPaper | Chapter
1. What Is Mechanical Engineering?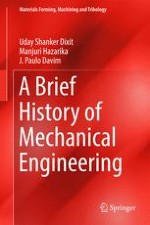 Authors: Uday Shanker Dixit, Manjuri Hazarika, J. Paulo Davim
Publisher: Springer International Publishing
Abstract
Mechanical engineering is one of the oldest disciplines of engineering, although it gained separate identity in the nineteenth century. The word engineer itself means the constructor of military engines, which falls in the scope of modern day mechanical engineers. Scope of mechanical engineering is quite wide. It finds applications in many fields. Mechanical engineers perform a variety of tasks starting from design to management of machines and equipment. They also perform supportive role in other engineering disciplines. Several engineering disciplines have undergone successful marriage with mechanical engineering. A number of disciplines have emerged as offspring of mechanical engineering, e.g., production engineering, industrial engineering, manufacturing engineering, automobile engineering, aerospace engineering, and mechatronics. Mechanical engineering education has been continuously evolving with the changing level of technology.