Published in: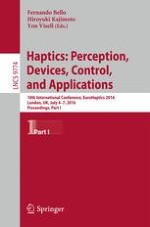 2016 | OriginalPaper | Chapter
What is the Hardness Perceived by Tapping?
Abstract
A human can perceive the hardness of an object by tapping its surface. We compared the ranked subjective hardness values and physical properties of objects, including their stiffness, viscosity, density, and Shore hardness, and the frequencies and time constants of the natural vibrations caused by tapping. The stiffness, frequency, and viscosity exhibited a relatively strong positive correlation with the perceived hardness. The results show that the viscosity influences the hardness perceived by tapping, as well as the stiffness, whereas the stiffness and elasticity are considered to be major factors in the hardness perceived by pinching or pushing.