01-12-2009 | Original Empirical Research | Issue 4/2009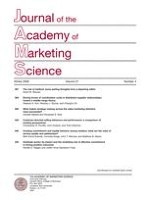 What makes strategy making across the sales-marketing interface more successful?
Authors:

Avinash Malshe, Ravipreet S. Sohi
Abstract
Extant research on marketing strategy making (MSM) lacks process-based theoretical frameworks that elucidate how marketing strategies are made when sales and marketing functions are involved in the process. Using a grounded theory approach and data collected from (a) 58 depth interviews with sales and marketing professionals and (b) a focus group with 11 marketing professionals, we propose that MSM within the sales-marketing interface is a three-stage, multifaceted process that consists of Groundwork, Transfer and Follow-up stages. Our process-based model explicates the specific activities at each stage that are needed to develop and execute marketing strategies successfully, the sequence in which these activities may unfold, and the role sales and marketing functions may play in the entire process. Managerially, this paper highlights that successful strategy creation and execution requires marketing and sales functions to be equally invested in the entire process.