31-03-2018 | Issue 1-2/2018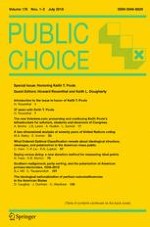 What Ordered Optimal Classification reveals about ideological structure, cleavages, and polarization in the American mass public
Journal:
Authors:

Christopher Hare, Tzu-Ping Liu, Robert N. Lupton
Important notes
An earlier version of this paper was presented at the Keith T. Poole Career Retrospective Conference, May 2017, Athens, GA. Thanks to Keith Poole for his patient and invaluable guidance throughout this project and to Bob Erickson, Howard Rosenthal, and an anonymous review for their insightful comments and suggestions for improvement. Thanks also to the University of Georgia, the Albert B. Saye Fund, and the School of Public and International Affairs for their generous financial support for conference travel. An
R
package and accompanying code to estimate Ordered Optimal Classification is available at
http://​github.​com/​tzuliu/​ooc
.
Abstract
This paper develops an extension of Poole's (Polit Anal 8(3):211–237,
2000
) Optimal Classification (OC) scaling procedure to the analysis of polytomous or ordered choice data. This type of data is regularly encountered in public opinion and expert surveys, legislative and judicial bodies where abstention is relevant, and measures of policy that are coded along ordinal scales. OC is nonparametric and requires only minimal assumptions about voters' utility functions and the error term. As such, Ordered Optimal Classification (OOC) provides a flexible modeling strategy to estimate latent ideological spaces from ordinal choice data. OOC is also easily estimated in multidimensional space without identifying restrictions. After describing the OOC procedure, we perform a series of Monte Carlo experiments and apply the method to analyze survey data from the 2015 Cooperative Congressional Election Study. We then conclude with a discussion of how scholars can utilize OOC in future work involving multidimensional spatial models of choice.