2005 | OriginalPaper | Chapter
What's Next in XML and Databases?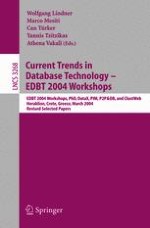 Authors: Minos Garofalakis, Ioana Manolescu, Marco Mesiti, George Mihaila, Ralf Schenkel, Bhavani Thuraisingham, Vasilis Vassalos
Publisher: Springer Berlin Heidelberg
Since the time XML became a W3C standard for document representation and exchange over the Web, many efforts have been devoted to the development of standards, methodologies, and tools for handling, storing, retrieving, and protecting XML documents. The purpose of this panel, held during the international EDBT'2004 workshop on "
database technologies for handling XML information on the Web
" [3], is to discuss the current status of the research in XML data management and to foresee new trends towards the XML-ization of database research.