01-09-2012 | Issue 3/2012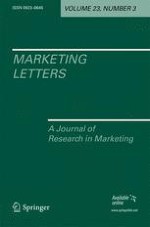 What type of framing message is more appropriate with nine-ending pricing?
Journal:
Authors:

Jungsil Choi, Kiljae Lee, Yong-Yeon Ji
Abstract
While the effect of nine-ending prices on purchases has been well documented, studies that examine the impact of this pricing technique in the context of advertisements are rare. This paper examines the joint effect of the pricing technique and message frames on the advertisement efficacy. Since a nine-ending price is compatible with gain-framed messages due to its gain image, we propose that nine-ending pricing strengthens the effectiveness of gain-framed messages (versus loss-framed messages) on the overall advertisement efficacy. The results of two experiments provide support for this hypothesis.