08-02-2021 | Issue 5/2021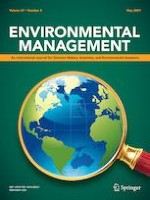 Where and When Carbon Storage can be Bought Cost Effectively from Private Forest Owners
Journal:
Authors:

Xiangping Liu, Seong-Hoon Cho, Paul R. Armsworth, Daniel J. Hayes
Important notes
Publisher's note
Springer Nature remains neutral with regard to jurisdictional claims in published maps and institutional affiliations.
Abstract
The role of time in estimating the cost of forest carbon is often ignored in the literature, nor does the literature address the issues of where and when the purchase of forest carbon storage becomes socially beneficial. In our study, we identify the spatial and temporal allocations of forest carbon investments that are socially beneficial based on empirical analysis. We use the Central and Southern Appalachian region in the Eastern United States as a case study over three periods (i.e., 1992–2001, 2001–2006, and 2006–2011) that are roughly in line with moderate, upturn, and downturn market conditions. The areas from which it is socially beneficial to buy carbon storage are mainly in flat terrain and further away from urban boundaries, hence facing lower development pressure and lower urban net returns. These areas also have less urban land and more forestland. The mapping of carbon cost over the three market conditions in our case study also indicates that the socially beneficial carbon area shrinks as the opportunity cost increases when the real-estate market evolves from a moderately growing to a booming market. The socially beneficial carbon area shrinks further as the demand from urban development on forestland collapses when the real-estate market enters a downturn stage.