29-10-2020 | Issue 1/2021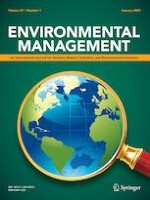 Which Should be Conserved According to Priority During Urban Expansion? Ecological Lands or Farmland?
Journal:
Authors:

Ting Zhou, Xinli Ke
Important notes
Publisher's note
Springer Nature remains neutral with regard to jurisdictional claims in published maps and institutional affiliations.
Abstract
Understanding the trade-off between the loss of ecological lands and farmland to urbanisation could alleviate negative consequences to the environment and food security. This study aims to analyse the impact of urbanisation on ecological lands and farmland by comparing respective losses of habitat quality and agricultural productivity potential. Different scenarios are established indicating the priority of conserving ecological lands or farmland based on their vulnerability as measured by weight. With a land-use simulation model LANDSCAPE, the demand for urban land is met by occupying inferior ecological lands or farmland. Land-use patterns in each scenario are projected to 2035 in Wuhan (a rapidly urbanising city in China). As the weight of habitat quality decreases, the loss of habitat quality increases from 2.56 to 5.80%, while the loss of agricultural productivity potential decreases from 4.16 to 2.94%. The higher vulnerability of habitat quality loss indicates that ecological lands need a priori conservation than farmland in exchange for urbanisation.