2004 | OriginalPaper | Chapter
Who are the Internet Content Providers?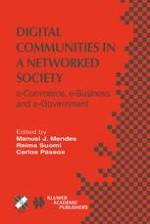 Read first chapter
Identifying a realistic taxonomy of content providers in the online news sector
Authors: Cornelia C. Krueger, Paula M.C. Swatman
Publisher: Springer US
Included in: Professional Book Archive
The Internet continues its growth as a medium for the sale of goods and services — and yet, although it would seem that digital content was one of the most obvious products for sale, content providers continue to struggle to find business models which will bring in adequate revenue. In this paper we initially review the literature on business models for digital content providers and note the wide variance in perspective amongst those writing in this field. Building on our work for the European Commission Sim Web project, we then consider the ways in which content providers in the online news industry actually operate and the ways in which they contribute to the content value chain, suggesting a framework of our own which suggests a continuum of business model types for content provision — ranging from "pure" content provision at one end to an extension beyond content itself to the provision of the technology needed to read content at the other end. We then elaborate on this framework, discussing the ways in which companies are making money from content provision in the online news industry, on the basis of a number of cases within the European market Finally, we discuss the possible directions other content providers might wish to take in this environment.