14-04-2021 | Issue 1/2021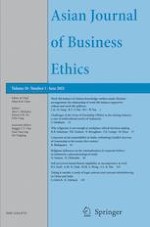 Why religiosity is not enough in workplace ethical decision-making
Journal:
Authors:

Rahizah Binti Sulaiman, Paul K. Toulson, David Brougham, Frieder D. Lempp, Majid Khan
Important notes
Supplementary Information
Publisher's note
Springer Nature remains neutral with regard to jurisdictional claims in published maps and institutional affiliations.
Abstract
Substantial literature has investigated the relationship between religiosity and ethical decision-making (the
what
), while lesser consideration has been given to exploring
why
decisions are made. As part of a larger study, this paper aims to delve beyond the descriptive relationship between religiosity and ethical decision-making of Muslim employees in Malaysia. We analyse the qualitative data received from 160 employees by using thematic analysis. Our results reveal that, while religious values are important for Muslims in Malaysia, there are other factors that are also pertinent when making decisions at work, namely the organization's interest and the context of the decision. We also found that individuals' reasoning based on Islamic teachings is embedded in rules and regulations, which suggests lower levels of ethical reasoning. This study extends the current understanding of the processes of ethical reasoning in highly religious contexts by individuals at their workplace. Implications and suggestions for future research are discussed.