13-06-2019 | Original Paper | Issue 6/2019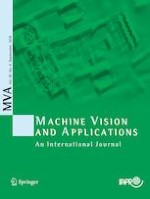 Wide baseline pose estimation from video with a density-based uncertainty model
Journal:
Authors:

Nicola Pellicanò, Emanuel Aldea, Sylvie Le Hégarat-Mascle
Important notes
Publisher's Note
Springer Nature remains neutral with regard to jurisdictional claims in published maps and institutional affiliations.
Abstract
Robust wide baseline pose estimation is an essential step in the deployment of smart camera networks. In this work, we highlight some current limitations of conventional strategies for relative pose estimation in difficult urban scenes. Then, we propose a solution which relies on an adaptive search of corresponding interest points in synchronized video streams which allows us to converge robustly toward a high-quality solution. The core idea of our algorithm is to build across the image space a nonstationary mapping of the local pose estimation uncertainty, based on the spatial distribution of interest points. Subsequently, the mapping guides the selection of new observations from the video stream in order to prioritize the coverage of areas of high uncertainty. With an additional step in the initial stage, the proposed algorithm may also be used for refining an existing pose estimation based on the video data; this mode allows for performing a data-driven self-calibration task for stereo rigs for which accuracy is critical, such as onboard medical or vehicular systems. We validate our method on three different datasets which cover typical scenarios in pose estimation. The results show a fast and robust convergence of the solution, with a significant improvement, compared to single image-based alternatives, of the RMSE of ground-truth matches, and of the maximum absolute error.