22-10-2021 | Original Paper | Issue 14/2021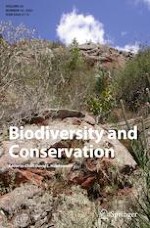 Wildfires, heatwaves and human disturbance threaten insular endemic bats
Journal:
Authors:

L. Ancillotto, G. Fichera, E. Pidinchedda, M. Veith, A. Kiefer, M. Mucedda, D. Russo
Important notes
Communicated by Adeline Loyau.
Supplementary Information
L. Ancillotto and G. Fichera co-first authors.
Publisher's Note
Springer Nature remains neutral with regard to jurisdictional claims in published maps and institutional affiliations.
Abstract
Islands host high numbers of endemic species, and the latter are especially exposed to human-driven habitat alteration because their population size is constrained by the limited space and resources found in insular systems. Extreme events linked with climate change and direct anthropogenic stressors may synergistically affect endemic species, and even push them to the brink of extinction. Bats include many insular endemics whose life traits make them excellent candidates to test the effects of both climate-change driven events and direct human disturbance. The Mediterranean island of Sardinia is home to the endemic long-eared bat
Plecotus sardus
. Within the island, this recently described species is restricted to a limited range where suitable habitat is present. This makes the species extremely vulnerable to human action. Here we use
Plecotus sardus
as a model to assess the response of insular endemic bats to climate change and human disturbance, exploring demographic trends across two decades. Overall, roost count data for all known reproductive sites showed a steep (-63.4% between 2003 and 2020) population decline, so that the current estimated population size is only 36.5% of that observed in 2003. Colony growth rates are strongly affected by recurring wildfires around reproductive sites, summer precipitation and temperature extremes, pointing to climate change as a primary threat to the species along with direct human interference. Such anthropogenic pressures may therefore rapidly expose island endemic bats to a high extinction risk. Based on our analysis,
Plecotus sardus
is among the most threatened mammals, and likely the rarest bat species, in Europe. Thus, we urge that (1) similar assessments are conducted on other insular endemic bats in Mediterranean Europe, (2) IUCN Redlist categories are revised according to new analyses, and (3) recovery action plans are immediately developed and implemented to revert the current population trends.