01-03-2018 | Titelthema | Issue 3/2018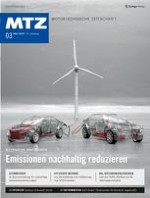 "Wir haben uns noch nicht auf eine Kraftstoffsorte festgelegt"
Journal:
Author:

Richard Backhaus
Alternative Kraftstoffe aus regenerativen Quellen könnten neue Wege in die CO 2-neutrale Mobilität von morgen eröffnen. Wie Ford als international tätiger Automobilhersteller die Potenziale bewertet und welche Hindernisse es zu überwinden gibt, erläutert Dr. Andreas Schamel, Director of Global Powertrain, Research and Advanced Engineering bei Ford. ...