2019 | OriginalPaper | Buchkapitel
Enabling Digital Transformation Through Robotic Process Automation at Deutsche Telekom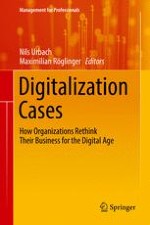 Erstes Kapitel lesen
Autoren: Manfred Schmitz, Christian Dietze, Christian Czarnecki
Abstract
(a)
Situation faced
: Due to the high number of customer contacts, fault clearances, installations, and product provisioning per year, the automation level of operational processes has a significant impact on financial results, quality, and customer experience. Therefore, the telecommunications operator
Deutsche Telekom
(DT) has defined a digital strategy with the objectives of zero complexity and zero complaint, one touch, agility in service, and disruptive thinking. In this context,
Robotic Process Automation
(RPA) was identified as an enabling technology to formulate and realize DT's digital strategy through automation of rule-based, routine, and predictable tasks in combination with structured and stable data.
(b)
Action taken
: Starting point of the project was the aim to implement DT's digital strategy. In an early stage of the project, it was decided to utilize RPA as enabler, in particular to drive digitization and automation of transactional activities. From a methodical perspective, the set-up and conduction of the RPA project was structured into (1) organization and governance, (2) processes, and (3) technology and operations. From the content perspective, the RPA project defined and implemented a multitude of detailed RPA use cases, whereof two concrete use cases are described.
(c)
Results achieved
: Within less than 6 months from the project start, the first transactions were performed automatically through RPA. In March 2016, approx. 229 thousand automatic transactions were successfully realized. Since then, the number of automatic transactions through RPA per month has been increasing significantly. The increase of automatic transactions per month was realized through a growing amount of usage of RPA in different process areas of DT. Within 1 year, the number of automatic transactions per month has been increased to more than 1 million.
(d)
Lessons learned
: The case provides an example for a concrete technology-induced change as part of a digital transformation. The concept of RPA provides an opportunity to automate human activities through software robots. The lessons learned utilizable for future RPA projects are: (1) Agile design and implementation are important for a successful digital transformation. (2) Understand technical innovations as enabler of the digital transformation. (3) Investigate technical and organizational interrelations from the beginning. (4) RPA is more than a pure cost cutting instrument. (5) The impact of RPA on the people dimension should be managed carefully from the beginning.