20.03.2019 | Ausgabe 1/2019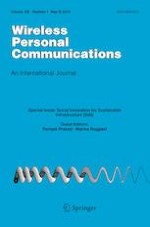 Enabling Generic Wireless Coexistence Through Technology-Agnostic Dynamic Spectrum Access
Zeitschrift:
Autoren:

Irfan Jabandžić, Spilios Giannoulis, Ingrid Moerman
Wichtige Hinweise
Publisher's Note
Springer Nature remains neutral with regard to jurisdictional claims in published maps and institutional affiliations.
Abstract
Every year that passes, new standardized and proprietary wireless communication technologies are introduced in the market that seeks to find its place within the already highly congested spectrum. Regulation bodies all around the globe are struggling to keep up with the continuously increasing demand for new bands to offer to specific technologies, some of them requiring by design an exclusive frequency band in order to operate efficiently. Even wireless bands offered for public or scientific usage like the ISM bands are becoming the natural habitat of multiple wireless technologies that seek to use or "abuse" them in order to provide even more bandwidth to their offered applications. Wireless research teams targeting heterogeneous wireless communication coexistence are developing techniques for enabling one-to-one coexistence between various wireless technologies. Can such an exhaustive approach be the solution for N wireless technologies that wish to operate in the same band? We believe that a one-to-one approach is inefficient and cannot lead to a generic coexistence paradigm, applicable to every existing or new wireless communication technology that will arise in the future. Can another approach provide a more generic solution in terms of frequency reuse and coexistence compared to the one-dimensional frequency separation approach commonly used in commercial deployments today. Can such a generic approach provide a simple and easily adoptable coexistence model for existing technologies? In this paper we present a new generic medium sharing model that solves the huge coexistence problems observed today in a simple and efficient way. Our approach is technology-agnostic and compatible with all existing wireless communication technologies and also has the capability to support emerging ones with minimum overhead.