2004 | OriginalPaper | Buchkapitel
Encroachments on Primary Forests: Are They Really Driven by Despair?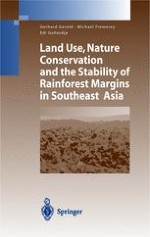 Erstes Kapitel lesen
Autoren: Teunis van Rheenen, Christine Elbel, Stefan Schwarze, Nunung Nuryartono, Manfred Zeller, Bunasor Sanim
Verlag: Springer Berlin Heidelberg
Enthalten in: Professional Book Archive
The Lore Lindu National Park has received much attention nationally and internationally during the past few decades. Maintaining existing levels of biodiversity has become an increasingly challenging task involving decision-makers and stakeholders at different levels of aggregation. A quarter of all mammal species of the earth are facing extinction within the next 30 years and one in eight bird species (12%) within the next 100 years (Hilton-Taylor, C., 2000; BirdLife International, 2000). The three factors that are responsible for the decrease in biodiversity are habitat loss, overexploitation and the introduction of alien species (Primack 2000). Sulawesi has an outstandingly unique flora and fauna (Stattersfield
et al
. 1998, Myers
et al
. 2000) and the Lore Lindu National Park is a key protected area for the conservation of Sulawesi's biodiversity since it is one of only two protected areas in the Central Province (Coates
et al
. 1997). But the loss of biodiversity is closely linked to other problems and much more is at stake. Policy makers, scientists and the public are increasingly concerned about tropical deforestation and its negative consequences such as climate change, reduced timber supply, flooding, silting, and soil degradation (Kaimowitz and Angelsen 1998). In the case of Central Sulawesi, a combination of numerous factors contribute towards a trend of decreasing biodiversity. Primary forest lands are rapidly being converted to agricultural lands and practices such as slash and burn have increased this trend. The conversion of primary forest for the cultivation of perennial crops, mainly cocoa has been taking place for a long time. Farmers may very well be aware of the negative long term consequences of encroaching on the national park and logging of primary forest trees, but under the existing socio-economic circumstances, often short term private benefits will prevail over long term social costs. A central question in this connection would be:
To what extent is it really necessary for households to use land that is situated in the national park or convert land that is still covered by primary forest to agricultural land?