2019 | OriginalPaper | Buchkapitel
6. Endophytes of
Ginseng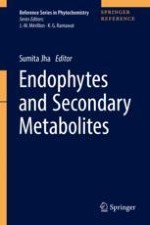 Erstes Kapitel lesen
Autoren: Hosakatte Niranjana Murthy, Dayanand Dalawai, So-Young Park, Kee-Yoeup Paek
Abstract
Ginseng (
Panax ginseng
C. A. Meyer) is a well-known medicinal plant which is used as a tonic in oriental medicine. Ginsenosides are the most important secondary metabolites of ginseng which have pharmacological effects including anticancer, antidiabetic, immunomodulatory, neuroprotective, hepatoprotective, and anti-stress properties. Bacterial and fungal endophytes associated with ginseng plants have been isolated, characterized from its natural distribution range. Endophytes of ginseng showed tissue or organ, age, genotype, and geographical location specificity with their distribution and abundance.
Bacillus
,
Burkholderia
,
Lysinibacillu
s,
Micrococcus
,
Paenibacillus
, and
Pseudomonas
are major bacterial genera isolated from ginseng.
Alternaria
,
Colletotrichum
,
Entrophospora
,
Fusarium
,
Paecilomyces
,
Penicillium
,
Phoma
,
Setophoma
,
Verticillium
, and
Xylaria
are the most frequent fungal genera isolated from ginseng. Majority of ginseng endophytes depicted many of biological activities such as plant growth promotion, antimicrobial, antitumor, ginsenoside biosynthesis, and biotransformation activities. In this chapter we presented the recent progress made in the area of biology of ginseng endophytes.