2019 | OriginalPaper | Buchkapitel
5. Endophytes of
Nothapodytes nimmoniana

(J. Graham) Mabb.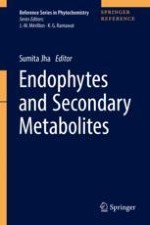 Erstes Kapitel lesen
Autoren: Hosakatte Niranjana Murthy, Dayanand Dalawai, So-Young Park, Kee-Yoeup Paek
Abstract
Endophytes are excellent source of bioactive natural products. Fungal and bacterial endophytes have been isolated from medicinal plant
Nothapodytes nimmoniana
, and majority of them have the capability of accumulating camptothecin (CPT) similar to host plant.
Entrophospora infrequens
,
Neurospora crassa, Fusarium oxysporum, Colletotrichum fructicola,
and
Corynespora cassiicola
are some of the fungal isolates which have been cultured by following submerged fermentation and solid-state fermentation methods for the production of CPT. Here we presented the detailed account of various endophytes isolated from
Nothapodytes nimmoniana
and recent research developments made in this area.