2019 | OriginalPaper | Buchkapitel
2. Endophytic Pseudomonads and Their Metabolites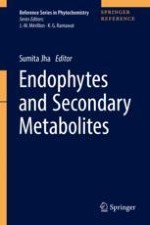 Erstes Kapitel lesen
Autoren: Apekcha Bajpai, Bhavdish N. Johri
Abstract
Plant microbiome is crucial in maintaining both plant health and ecosystem functioning. Rapid advance in next-generation sequencing technology has brought about a paradigm shift in our understanding of plant microbiome. This has especially shed light on selective colonization of microbes in root compartments, i.e., rhizosphere, rhizoplane, and endosphere. A growing body of evidence reveals the predominance of the phylum Proteobacteria in endomicrobiome of several crop plants. Additionally,
Pseudomonas
is found to be a widely distributed genus within Proteobacteria which exists in both above and below ground plant parts. Pseudomonads are extensively exploited for their metabolic potential and adaptability toward endophytic lifestyle in contrast with their rhizospheric counterpart and fungal endophytes. This together develops a better understanding of the genus
Pseudomonas
as key determinants in plant health including their role as biocontrol agents. In this chapter, we discuss pseudomonads with endomicrobiome perspectives, their atypical characteristics with respect to rhizospheric microbes, and influence of metabolites in context with their role in plant growth and biocontrol. A comprehensive understanding about selection of endophytic lifestyle will perhaps provide better opportunities to improve plant performance and pathogen resistance.