2019 | OriginalPaper | Buchkapitel
Endorsement in Referral Networks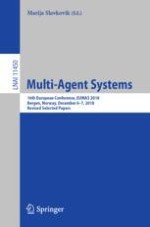 Erstes Kapitel lesen
Autoren: Ashiqur R. KhudaBukhsh, Jaime G. Carbonell
Abstract
Referral networks is an emerging research area in the intersection of Active Learning and Multi-Agent Systems where experts—humans or automated agents—can redirect difficult instances (tasks or queries) to appropriate colleagues.
Learning-to-refer
involves estimating topic-conditioned skills of colleagues connected through a referral network for effective referrals.
Proactive skill posting
is a learning setting where experts are allowed a one-time local network advertisement of a subset of their top skills. The learning challenge is exploiting partially available (potentially noisy) self-skill estimates, including adversarial strategic lying to attract unwarranted referrals. In this paper, we introduce the notion of endorsement typically found in professional networks where one colleague endorses another on particular topic(s). We first augment proactive skill posting with endorsements and propose modifications to existing algorithms to take advantage of such endorsements, penalizing subsequent referrals to agents with bogus skill reporting. Our results indicate that truthful endorsements improve performance as they act as an additional cushion to early failures of strong experts. When combined with truthful endorsements, extensive empirical evaluations indicate performance improvement in proactive-
DIEL
and
\(\epsilon \)
-
Greedy
in both market-aware and market-agnostic skill posting setting while retaining desirable properties like tolerance to noisy self-skill estimates and strategic lying.