2019 | OriginalPaper | Buchkapitel
17. Energy Market Liberalization for Unlocking Community-Based Green Finance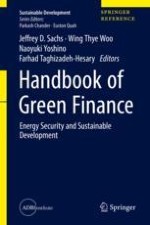 Erstes Kapitel lesen
Autoren: Aki Suwa, Magali Dreyfus
Verlag: Springer Singapore
Abstract
There are increasing expectations on community-based financing for local renewable projects in Japan and in France: In both France and Japan, it has been about 10–20 years since the power market has been open to competition, in which France was ahead in fully liberalizing market to households in 2007, compared to that in Japan of 2016.
With this as a background, a number of local governments are now able to establish power producer suppliers (PPS) to develop and supply renewable energy.
Local renewable projects of the PPSs, if properly designed, can function as a mechanism to create circular financial flow, where profits associated with electricity sales and the associated financial benefits may stay in the communities to form a shared stock for residential benefits.
This chapter illustrates cases in Japan and France, in which both electricity markets were centralized but are now open to new entrants, to identify if and how the projects have come about, and what the key factors of creating community benefits are. It also analyses financial and credibility barriers, through the case studies, to draw lessons for further community renewable development. The findings will help to clarify the importance of community financial flow for the community sustainability, and how the community has gained the access to finance and investment.