18.09.2017 | Ausgabe 4/2017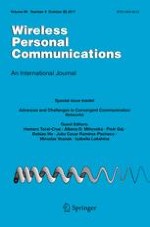 Energy-Spectral-Efficiency Tradeoff in Interference-Limited Wireless Networks
Zeitschrift:
Autoren:

Zhihang Li, Huilin Jiang, Pei Li, Zhiwen Pan, Nan Liu, Xiaohu You
Wichtige Hinweise
This work was supported by the National Special Key Program (Grant Nos. 2011ZX03003-002-02, 2012ZX03003-010-002), the National Basic Research Program of China (973 Program 2012CB316004), the National Natural Science Foundation of China under Grant 61201170, the Research Fund of National Mobile Communications Research Laboratory, Southeast University (Nos. 2014A02, 2014A02), the Liuda Rencai Gaofeng of Jiangsu Province, Jiangsu Provincal Key Technology R&D Program (BE2012165), and Huawei Corp. Ltd.
Abstract
Spectral efficiency (SE) is an important metric in traditional wireless network design. However, as the development of high-data rate services and rapid increase of energy consumption, energy efficiency (EE) has received more and more attention. In this paper, we investigate the EE–SE tradeoff problem in interference-limited wireless networks. Different from previous researches, we try to optimize EE and SE simultaneously. Firstly, the problem is formulated as a multi-objective optimization problem (MOP), with the constraint of transmit power limit. Then, we convert the MOP to a single-objective optimization problem by the weighted linear sum method. We present an algorithm utilizing difference between two convex functions programming (DCP) to handle with SE optimization problem (SD). EE optimization problem can be solved by an algorithm (EFD) consists of fractional programming embedded with DCP. While for EE–SE tradeoff problem, a particle swarm optimization algorithm is proposed (ESTP) to deal with it. Simulation results validate that the proposed algorithm can efficiently balance EE and SE by adjusting the value of weighted coefficient, which could be used to design a flexible energy efficient network in the future.