01.04.2014 | Ausgabe 4/2014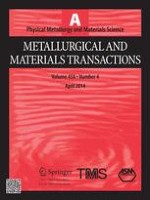 Engineering Defect-Free Nanoporous Pd from Optimized Pd-Ni Precursor Alloy by Understanding Palladium-Hydrogen Interactions During Dealloying
Zeitschrift:
Autoren:

Julius Schoop, T. John Balk
Wichtige Hinweise
Manuscript submitted July 30, 2013.
Abstract
Thin films of nanoporous palladium (np-Pd) were produced from binary palladium-nickel (Pd-Ni) precursor alloys. A suitable precursor alloy and a method of dealloying to yield optimum nanoporosity (average pore/ligament size of 7 nm) were developed by studying the effects of various processing parameters on final microstructure. To obtain crack-free np-Pd, a 100 nm thin film of 20 at. pct Pd (80 at. pct Ni) can be dealloyed for ~5 hours in a 1 M solution of sulfuric acid, with oleic acid and oleylamine added as surfactants. Both shorter and longer dealloying times, as well as heating, inhibit the formation of crack-free np-Pd. Stress measurements at different stages of dealloying revealed that the necessary dealloying time is determined by the diffusion-controlled corrosion reaction occurring within the thin film during dealloying. Strong interaction between hydrogen and np-Pd was reflected in the stress evolution during dealloying. A mechanism is proposed for the formation of a Ni-rich dense top layer that results from H-induced swelling during initial dealloying and permits the development of defect-free np-Pd beneath, by limiting the speed of dealloying.