01.12.2006 | Original Paper | Ausgabe 4/2006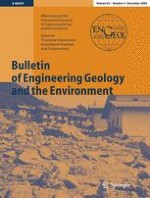 Engineering geology maps: landslides and geographical information systems
Autoren:

J. Chacón, C. Irigaray, T. Fernández, R. El Hamdouni
Wichtige Hinweise
This report is being continually updated and further references can be seen on the IAEG website (
www.​iaeg.​info
) under Commission No. 1.
Abstract
IAEG Commission No. 1—Engineering Geological Maps—is developing a guide to hazard maps. Scientists from 17 countries have participated. This paper is one of a series that presents the results of that work. It provides a general review of GIS landslide mapping techniques and basic concepts of landslide mapping. Three groups of maps are considered: maps of spatial incidence of landslides, maps of spatial–temporal incidence and forecasting of landslides and maps of assessment of the consequences of landslides. With the current era of powerful microcomputers and widespread use of GIS packages, large numbers of papers on the subject are becoming available, frequently founded on different basic concepts. In order to achieve a better understanding and comparison, the concepts proposed by Varnes (Landslide hazard zonation: a review of principles and practice,
1984
) and Fell (Some landslide risk zoning schemes in use in Eastern Australua and their application
1992
; Landslide risk assessment and acceptable risk. Can Geotech J 31:261–272,
1994
) are taken as references. It is hoped this will also add to the international usefulness of these maps as tools for landslide prevention and mitigation. Six hundred and sixty one papers and books related to the topic are included in the references, many of which are reviewed in the text.