01.09.2018 | Perspectives | Ausgabe 9/2018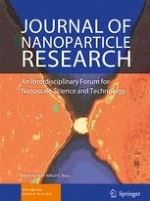 Engineering of "critical nanoscale design parameters" (CNDPs) in PAMAM dendrimer nanoparticles for drug delivery applications
Zeitschrift:
Autoren:

Abhay Singh Chauhan, Manisha Kaul
Wichtige Hinweise
This article is part of the topical collection: Unifying Concepts for Nanoscience and Nanosystems: 20th Anniversary Issue
Donald Tomalia, Paolo Milani and Kenneth Dawson, Co-editors
Abstract
Dendrimers are widely recognized as members of the fourth major architectural class of polymers after linear, cross-linked, and branched architectural types. They have become a desirable polymer category for drug delivery applications based on the ability to readily structure control their six "critical nanoscale design parameters" (CNDPs). These CNDPs include
(1) size, (2) shape, (3) surface chemistry, (4) flexibility/rigidity, (5) architecture and (6) elemental composition.
The poly(amidoamine) dendrimer (PAMAM) family, first reported by Tomalia et al. in 1985, is one of the most widely investigated dendrimer types for drug delivery. Drugs can either be physically entrapped or chemically conjugated onto dendrimers. Association of drugs with dendrimers depends on numerous factors but mainly on dendrimer architecture. PAMAM dendrimers are available with a variety of surface groups, cores, and generations (i.e., sizes); however, drug associations with dendrimers are most dramatically influenced by the dendrimer's interior composition, generations (i.e., sizes), and surface chemistries. The physical drug-dendrimer associations are often defined by the periodic dendrimer property patterns which are manifested as a function of dendrimer architecture and generations. Engineering the "critical nanoscale design parameters" (CNDPs) of dendrimers provides a systematic strategy for optimizing dendrimer (host) and drug (guest) relationships. This article discusses the role of CNDPs on guest-host drug entrapment in dendrimers by physical or supramolecular means (i.e., a non-conjugation, formulation type approach).