2019 | OriginalPaper | Buchkapitel Open Access
11. Engineering Options Analysis (EOA): Applications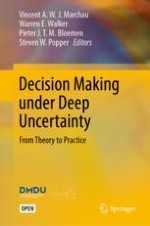 Autoren: Richard de Neufville, Kim Smet, Michel-Alexandre Cardin, Mehdi Ranjbar-Bourani
Abstract
This chapter illustrates the use and value of Engineering Options Analysis (EOA) using two case studies. Each describes the analysis in detail. Each entails the need for plans to monitor projects so that managers know when to exercise options and adapt projects to the future as it develops. The Liquid Natural Gas case (Case Study 1) concerns the development of a liquid natural gas plant in Australia. It:
Provides a generic prototype for the analysis of projected innovative developments.

Demonstrates the kind of insights that EOA can provide.

Highlights the potential advantage of flexibility in size, time, and location of facilities. In particular, it develops the important insight that modular designs may be more profitable than monolithic designs because they enable managers to reduce the significant risk of overdesigned plants, and they increase opportunities by taking advantage of the time and location of increases in demand.
The IJmuiden case (Case Study 2) concerns water management and flood control facilities in the Netherlands. It:
Demonstrates the application of EOA to cope with uncertainty in natural processes, in contrast to the more traditional context of market uncertainties.

Uses diverse scenarios to identify conditions for which a strategy is valid across significant ranges of future conditions, and contrary situations in which a choice depends on belief about the level of risks.

Documents how EOA shows which forms of flexibility in design justify their cost (in this case, flexibility in pumping facilities adds significant value, but flexibility in the flood defense height of the structure does not).

Shows how the calculation of distributions of possible outcomes provides decisionmakers with useful information concerning worst-case outcomes, unavailable from average outcomes alone.