19.01.2021 | ORIGINAL ARTICLE | Ausgabe 2/2021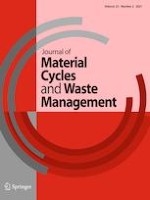 Engineering performance of high-content MgO-Alkali-activated slag mortar incorporating fine recycled concrete aggregate and fly ash
Zeitschrift:
Autoren:

Duy-Hai Vo, Chao-Lung Hwang, Khanh-Dung Tran Thi, Min-Chih Liao, Mitiku Damtie Yehualaw
Wichtige Hinweise
Publisher's Note
Springer Nature remains neutral with regard to jurisdictional claims in published maps and institutional affiliations.
Abstract
This research investigated the effects of recycled fine aggregate (RFA) and fly ash (FA) content on the strength development and engineering properties of alkali-activated slag–MgO (AASM) mortar. Various mortar specimens in which natural sand was replaced by RFA in five ratios (0:100, 25:75, 50:50, 75:25, and 100:0) and 0%, 15%, 30%, and 45% of the slag content was replaced by FA were prepared. Finally, the MgO content was fixed at a constant 7.5% of slag and FA by weight. These mixtures were activated using a solution of sodium hydroxide and sodium silicate. Strength and engineering properties, including flowability, unit weight, water absorption, ultrasonic pulse velocity (UPV), electrical surface resistivity (ESR), and rapid chloride penetration test (RCPT), were evaluated for all of the mortar samples throughout 56 days of curing time. The findings demonstrate that RFA and FA contents significantly affected the properties of mortar specimens, with RFA negatively influencing these properties and the 15% FA content specimen showing the most significant improved strength and engineering properties. Moreover, all of the AASM mortar mixtures exhibited good strength and high durability, with high UPV and ESR values as well as low-RCPT results.