01.03.2015 | Original Paper | Ausgabe 6/2015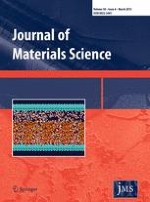 Engineering the A- and B-sites for upconversion luminescence in Ho- and Yb-codoped filled tetragonal tungsten bronze oxides
Zeitschrift:
Autoren:

T. Wei, L. Ye, C. Z. Zhao, W. B. Wang, Q. Z. Ma, Q. Lv, J. M. Liu
Abstract
Filled tetragonal tungsten bronze (FTTB) oxides represent a huge family of materials which exhibit rich electric and magnetic functionalities deserving for comprehensive investigations. Recently, some members of this family have established their significance in efficient upconversion (UC) luminescence upon proper rare-earth species doping, while the signal intensity is yet weak. In this work, the UC luminescence of Ba
p
Ln
6−

p
Ti
8−

p
Nb
2+

p
O
30
codoped by Ho and Yb (BLTN
p
:Ho–Yb) with different
p
are studied. The bright UC green emission, red emission, and near-infrared (NIR) emissions, originating from the two-photon energy-transfer process associated with the
5
S
2
→
5
I
8
,
5
F
5
→
5
I
8
, and
5
S
2
→
5
I
7
transitions of Ho
3+
ions, were observed. The luminescence intensity demonstrates remarkable dependence on the A- and B-sites occupation, and the UC green, red, and NIR luminescence can be enhanced for 10, 25, and 10 times, respectively, upon a change of
p
from 3.5 to 5.0. This dependence is found to be tightly correlated with the crystal field environment, as characterized by the local lattice distortion. This work sheds light onto an alternative strategy to enhance the UC luminescence in this FTTB family.