22.08.2016 | Ausgabe 1/2017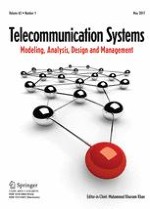 Enhanced centralized management of gateways using redirection-based rules sharing for mobile network virtualization
Zeitschrift:
Autoren:

Manabu Ito, Nozomu Nishinaga, Yoshinori Kitatsuji
Abstract
In this study, we propose a method for improving thescalability of sharing the flow rules, which are used to inspect and direct packets, between gateway functions in a mobile network virtualization infrastructure. The proposed method enhances the centralized management mechanism, where a controller reactively installs rules based on receiving the first packet of each flow, to reduce the load in the controller by decreasing the packets transmitted to the controller for packet inspection. The main feature of this method is that the gateway function redirects unknown packets to another gateway function instead of the controller, and the matched rules are installed in every gateway function on the redirection path using reverse-path forwarding. Using a prototype system, we show that the enhanced method can reduce the number of packets arriving at the controller per unit time by
\(\sim \)
63 % under our use case assumption.