01.10.2016 | ORIGINAL PAPER | Ausgabe 10/2016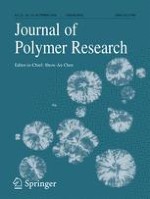 Enhanced crystallization behaviour and impact toughness of poly(ethylene terephthalate) with a phenyl phosphonic acid salts compound
Zeitschrift:
Autoren:

Zhiyuan Shen, Faliang Luo, Xiaomei Lei, Lijie Ji, Kezhi Wang
Wichtige Hinweise
This work is financially supported by the National Natural Science Foundation of China (No. 21264012).
Abstract
Low crystallization rate and inherent brittleness characteristics limit the wide application of PET. In this paper, it was found that a low molecular weight Phenyl phosphonic acid salts compound (TMC-210) is a very effective nucleator and can enhance the impact strength very much. So, the effect of TMC-210 on the crystallization behaviour and mechanical properties of poly(ethylene terephthalate) were systematically evaluated by differential scanning calorimetry (DSC), polarized optical microscopy (POM), wide angle X-ray diffraction (WAXD), scanning electron microscope (SEM) and mechanical properties test. The results show that TMC-210 obviously improves the crystallization temperature and accelerates the crystallization rate of PET and reflects a significant heterogeneous nucleating effect with a nucleation efficiency of 99.8 % when introducing a low content of 0.6 wt% TMC-210. The spherulites size and number of blended PET are greater than pure PET. The crystal structure of PET does not change but the blends with high TMC-210 content appears new diffraction peaks in x-ray diffraction spectrogram and it may attribute to the agglomeration of TMC-210 particles, which is verified by SEM observation. The impact fracture surface of PET develops a brittle ductile transition and thus the impact strength of PET improves significantly. Additionally, Lauritzen–Hoffman equation was used to discuss the effect of TMC-210 on the fold surface free energy (
σ
e
) of PET in the crystallization process and found that the
σ
e
values of PET/TMC-210 blends is smaller than that of pure PET.