01.08.2013 | Ausgabe 16/2013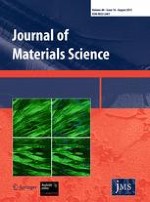 Enhanced electrochemical detection performance of multiwall carbon nanotubes functionalized by aspartame
Zeitschrift:
Autoren:

Miao Liang, Fengmin Jin, Rui Liu, Rongxin Su, Wei Qi, Yanjun Yu, Libing Wang, Zhimin He
Abstract
Inexpensive, non-toxic, and biocompatible materials that can disperse multiwall carbon nanotubes (MWCNTs) in aqueous solutions through a non-covalent approach while retaining their unique electronic and photonic properties are highly preferred. In this article, we introduce the use of an amphiphilic dipeptide derivative, aspartame, as an effective dispersing agent in preparing highly stable suspensions under ultrasonication. The results demonstrate that aspartame was absorbed by the nanotube surface possibly because of non-covalent
π
–
π
stacking between the aromatic group of aspartame and the CNT backbone. In addition, the resulting MWCNT/aspartame composites remained stably dispersed over a wide range of pH values. The chronoamperometric measurements of MWCNT/aspartame composite-coated electrodes for hydrogen peroxide demonstrated better electrochemical detection performance, as characterized by significantly enhanced step current, higher sensitivity, and reduced potential compared with bare electrodes.